I was a freshman in college in Washington, DC on September 11, 2001. You could see the smoke from the Pentagon quite clearly from my dorm room window. As one of the few people from Southwestern PA on campus, everyone was freaked out because before the specific town of Shanksville was named, news reports kept mentioning Pittsburgh as another plane crash site. This was a time before everyone and the dog had a cell phone (smart phone wasn't in the lexicon yet!), so there was some concern on my part as to exactly how close all of this was going to directly affect me. It was the first major incident to occur in my adult life- but it was not the first American tragedy I could remember.
Dropping a lil' patriotism for ya...
Image from http://www.pinterest.com/pin/246009198370178760/
The first major incident of American tragedy in my lifetime that I can actively remember was the
Oklahoma City bombing of 1995
. I was in middle school, and it was my birthday. I'm the nerd that had a morning routine of watch the Today Show with Bryant Gumbel and Katie Couric. The entire morning was coverage of the events that had happened the day before- pictures of the building nearly completely gone, people asking about where their lost loves ones could be, everyone asking how and why this event happened. (Note: it was the day after that I learned about it because I was already in school by the time the bombing occurred). As a kid, I knew that something bad had happened, and that the city looked a complete mess, but I couldn't fully grasp the magnitude of the events. My mom was glued to the TV- I watched and tried to understand, but the concepts of such devastation were a bit too much for me to comprehend.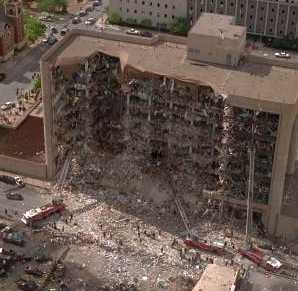 I mean...yikes!
Image from http://www.realcourage.org/2010/04/trust-versus-agreement/oklahoma-city-bombing/
Enter the
Oklahoma City National Memorial and Museum
. When I knew I would be going to OKC, I told myself if NOTHING else, I wanted to go to this museum and learn about this event as an adult that can now fully appreciate what happened.
Walking into the Memorial
West Gate with the minute after the bombing marked.
The outdoor memorial was absolutely breathtaking. The first thing I thought about was the long stretch of memorials in
DC
. I later learned that the reflecting pool is the actual spot where the bombed Federal Building stood.The two large entryways represent the east and west ends of the building- one impressed with 9:01 the other with 9:03. These represent the minutes before and after the bombing that occurred at 9:02 am April 19, 1995. There are brass chairs to the side of the pool representing the 168 lives lost that day.
Art that was on display inside of the Murrah Building
Once you get inside the museum and get to the floor where your self led tour will start, you enter a room filled with art and everyday items that explain how ordinary that morning began. You learn about all the government agencies that had meetings and what the meetings were to discuss- all pretty mundane things. A guide is standing near a door with a timed entry. When you enter, you walk into a dimly lit room set up like a very boring office. I'll let you see what happens:
Let me first say I hope I'm not breaking any laws or major rules posting that- I thought it was very creative, moving, and special and really wanted to remember it always and share it with my readers.
From there another set of doors open and you enter a room with loud news reports declaring that the building has exploded, and above your head is an actual support beam from the former Federal Building. Display cases feature like items that were found in the aftermath- most of whose owners perished in the bombing.
Simulated office with a clock that stopped at exactly 9:02am
Keys found after the bombing
The rest of the museum takes you through the initial shock- how loved ones and so many children were killed or injured. There are films, photos, clothing items- many smeared in dirt and tattered. It was all very emotional and powerful-- but most of all respectful. Even when they got to the areas that discussed how Timothy McVeigh and Terry Nichols carried this act out, the museum portrays just the facts and allows the visitor to develop and process their own emotions. Perhaps the most moving things I remember were seeing part of the actual vehicle used in the bombings, and then later a memorial room where all the victims were pictured with items their families selected to represent their loved ones. I thought it was a touching reminder that these were people that had personalities, quirks, and were still very much so missed by their families.
License plate from the vehicle used to bomb the Murrah Building
At the end, they added some non-historical education with an exhibition dedicated to the science behind the crime scene investigation- I didn't spend too much time here as I needed to get moving to my next destination, but it seemed a lot more hands on and had more detailed information about the trial and convictions of the criminals who did this heinous act.
Words cannot explain how moved I was by my experience here. This story, although I knew the bare bones details, seemed to truly grow and develop in front of me. I cried, felt a wide range of emotions, and actually felt a little pang of guilt that it took 19 years for me to truly "get" how serious this was. On top of that, the museum is BEAUTIFUL. I mean, the story is super well done, everything is clean and well maintained, the staff was friendly, and it was appropriately neutral. Yes, you are meant to feel emotions as you come through, but the museum doesn't tell you what those emotions should be, and I fully respect and appreciate that.
American flags on display at the museum that survived the bombing
I encourage everyone to come and see this museum!
(For the record, I do plan on going to see the 9/11 Museum in New York whenever I get there...but that's another day, another post!)
In the meantime, I still have a few Oklahoma posts to go, and as we know I'll be in a "new" state (Georgia!) for Labor Day weekend. Thank you so much for reading my blog, and as always I'll see you on the next adventure!